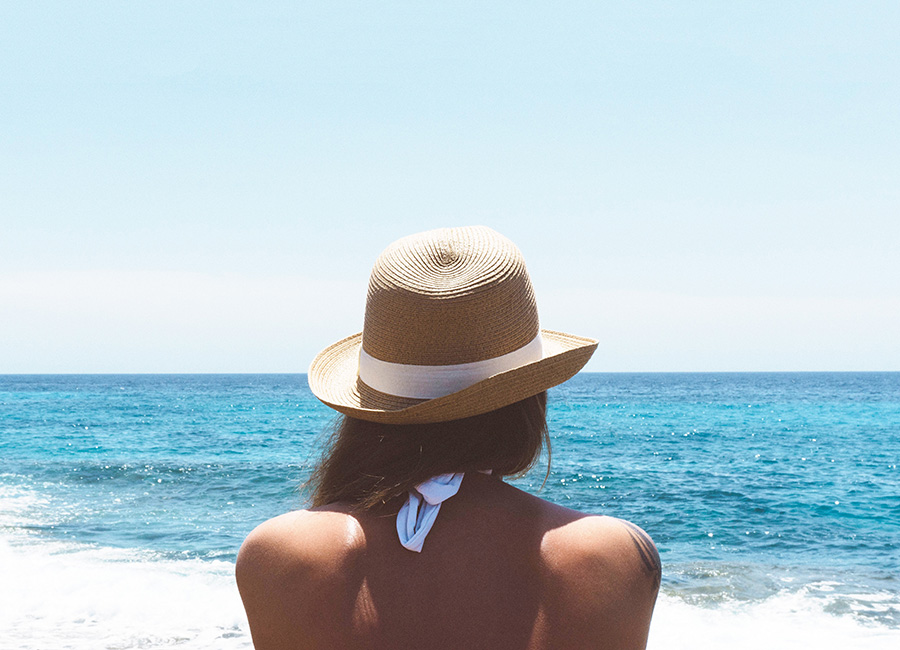 How to support healthy skin in these hot hazy days
Sun exposure is one of the leading causes of premature wrinkles, fine lines, and age spots. But there's lots you can do to protect and enhance your skin health from outside and in.
When it comes to ultra-violet light, remember A is for Ageing and B is for burning:
UVB rays on a hot sunny day penetrate the top layers of skin to cause visible damage seen as red or blistered skin
UVA rays will pass through clouds and glass and are generally present in any daylight, penetrating deeper into the dermis with a much slower effect of gentle tanning. These rays destroy Vitamins A, C and D within our skin and damage vital skin cells essential for skin health via free radicals.
You can protect your skin by wearing sunblock all year round AND replacing vitamins damaged by sunlight. Read on for my SPF recommendation and foods to support healthy summer skin.
My go-to SPF this summer
This is a sunblock I often recommend, especially to people with sensitive skin or rosacea. Elta MD Skincare UV Pure Broad-Spectrum SPF 47 (NOTE: not their SPF 40 product!) is a fantastic sunscreen that I highly rate for both face and body. What I love about it:
Transparent zinc oxide – feels light and doesn't leave a white cast
Contains anti-inflammatory Vitamin B and exfoliating lactic acid – I love multi-tasking products
Suitable for all skin types, including sensitive skin
Water-resistant for up to 80 minutes
Oil-free, fragrance-free, and won't clog your pores
Packed with antioxidants to fight off those pesky free radicals
Before you dive into purchasing this sunscreen, I highly recommend you book a skincare consultation with me to discuss your whole skincare routine and discover the best products for your unique skin.
My go-to summer foods
Replenishment of Vitamins A, C, and E through diet, supplementation, and topical skincare should be an equal focus as these anti-oxidants protect surrounding cells from free radical damage caused by UVA rays. This means fewer wrinkles and a more youthful complexion over time.
For Vitamin A, make sure to include plenty of red bell peppers, sweet potato (with skin!), and spinach in your summer salads.
For Vitamin C, alongside your classic citrus fruits, you will find higher levels in watermelon, sweet yellow peppers, parsley and kale.
So, make sure to grab a broad-spectrum sunscreen with at least SPF 30, apply generously, and tuck into deliciously fresh antioxidant-packed salads to protect your skin inside out this summer. Your future self will thank you for keeping that beautiful skin looking radiant and youthful
Repairing sun-damaged skin
If you've been a sun worshipper all your life and feel like it's too late to save your skin, don't despair! The typical signs of sun exposure – sun spots, broken capillaries, wrinkles and leathery skin – are treatable. A lot can be done with topical skincare, resurfacing facials, botox and dermal fillers
Book a consultation with Dr. Miriam A to discover how she can help you smooth out lines, reduce discoloured skin and bring back that fresh face.
Join Dr. Miriam's Newsletter
Join our mailing list to receive Dr. Miriam's seasonal skin care tips, her latest discoveries and special offers
You can unsubscribe at any time by clicking the link in the footer of our emails. For information about our privacy practices, please visit our website.